Fernley's Corn
Circa 2002
Butterford Aka Red Cottage
Circa 2002
Evening Fields
Circa 2002
Venton Down
Circa 2009 also found as 'Summer Hill'.
By Langley Wood
Circa 2003
Long Dog
A study from circa 2003
More Black Than Blue - A Study
Circa 2004
Farloe Verdict
Commission Circa 2005
New Darley
2009 or perhaps 2008? Oil on canvas 58 x 27.9 cm
Walk To Lampretten
Circa 2003 also found as 'At Valleys Meet'
Lane to Flatt Hill
Circa 2008 also found as 'September Hill'.
Hoggett's Pasture
Circa 2002
Track to Rokesby Wood
Circa 2002
Church
A study circa 2007
Edge Of The Wood
Circa 2002
I Tawt I Saw A Puddy Cat
Circa 2003
Jenner's Meadow
Circa 2002
Path To Memories
Circa 2002
Lansel
Originally from 2009 this became Lansel Hill in the following couple of years
Davies Field
Davie's Down
Trekenner Coombe
Circa 2003
Verbyn Mill
Image found dated 2003
Verbyn Mill, Autumn
Image found dated 2003
Jasper [an iteration]
2006 Revisited my old boy again-such a handsome dog.
Summer Landscape
About 2007 unless you know better?
The Journey Part 1
Circa 2008
The Journey Part 2
Circa 2008
Petherinney
From 2009 -A better image. This vale is the source of one of the River Inn[e]ys in my world. Evolved into Great Fusnewth in 2011.
The Welcome
The first iteration 2007
Tree Top Woman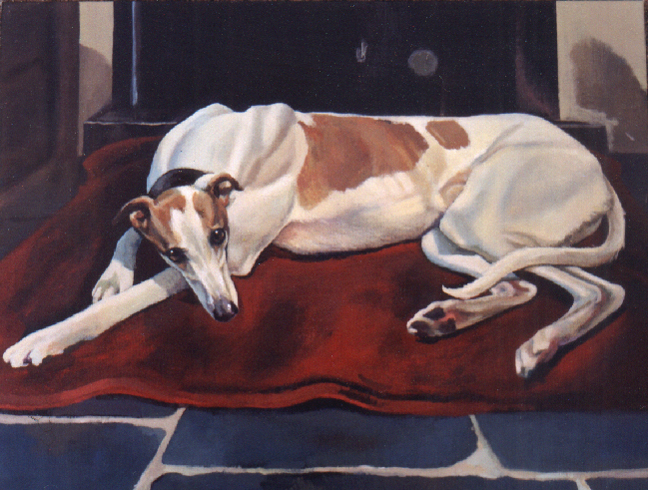 Crimson Rug
2003 Commission-a better image
Top Of The Morning
A not at all Irish curvy cottage circa 2002
Clampits
Circa 2006: Much debated online the name is either given to a damp hollow area or some form of vegetable storage pit. Newer takes on the word are generally afro-american derogatory terms for the redneck neighbours. There are several places named 'Clampits' in East Cornwall and Devon. You go sort it out?? Again circa 2006
Illand
Dated image from 2003
Come Here Lucky? Please!
2003 Commission-a better image
Fairy
About 2005 [from a private collection]
Gonamena
'neath Craddock
Image found dated 2004
North Upton
A typical Jo March landscape I think you'll agree, about 2002